A Special Election will take place on August 8, 2023. Check out the resources below to find everything you need to vote.
---
VOTER REGISTRATION
Printed Voter Registration Forms should be returned in-person or by mail to your county Board of Elections. Click here to find your Board of Elections.
THE DEADLINE TO REGISTER TO VOTE IN THE AUGUST 8, 2023 SPECIAL ELECTION IS JULY 10, 2023
---
VOTE-BY-MAIL
You can vote before Election Day by applying for a Vote-by-Mail ballot. Military and overseas voters can vote this way too. You can request your ballot now through August 1, 2023.
► Request An Absentee Ballot | Cuyahoga County | Lake County | Geauga County | Other |
THE DEADLINE FOR APPLICATIONS FOR A VOTE-BY-MAIL/ABSENTEE BALLOT IS 8:30 P.M. ON AUGUST 1.
---
VOTE EARLY IN-PERSON
Anyone registered to vote in Ohio can go to their county Board of Elections and vote at the scheduled times:
July 11-14: 8:00 a.m. - 5:00 p.m.
July 17-21: 8:00 a.m. - 5:00 p.m.
July 24-28: 8:00 a.m. - 5:00 p.m.
July 31: 7:30 a.m. - 7:30 p.m.
August 1: 7:30 a.m. - 8:30 p.m.
August 2-4: 7:30 a.m. - 7:30 p.m.
August 5: 8:00 a.m. - 4:00 p.m.
August 6: 1:00 p.m. - 5:00 p.m.
► Click here to find your county Board of Elections
---
ELECTION DAY VOTING
You can vote in person on Election Day at your assigned Polling Location. Polls are open from 6:30 a.m. to 7:30 p.m. If you are in line before the polls close, you have the right to vote. 
---
VOTER IDENTIFICATION REQUIREMENTS
There are several types of valid photo identification.
Ohio driver's license;
State of Ohio ID card;
Interim ID form issued by the Ohio BMV;
A US passport;
A US passport card;
US military ID card;
Ohio National Guard ID card; or
US Department of Veterans Affairs ID card
All photo IDs must have the following:
An expiration date that has not passed;
A photograph of the voter;
The voter's name, which must substantially conform to the voter's name as it appears in the Poll List or in the Poll Book
NOTICE: An unexpired Ohio Driver License, State ID Card, or Interim Documentation with your former address IS an ACCEPTABLE form of ID when your current address is in the pollbook.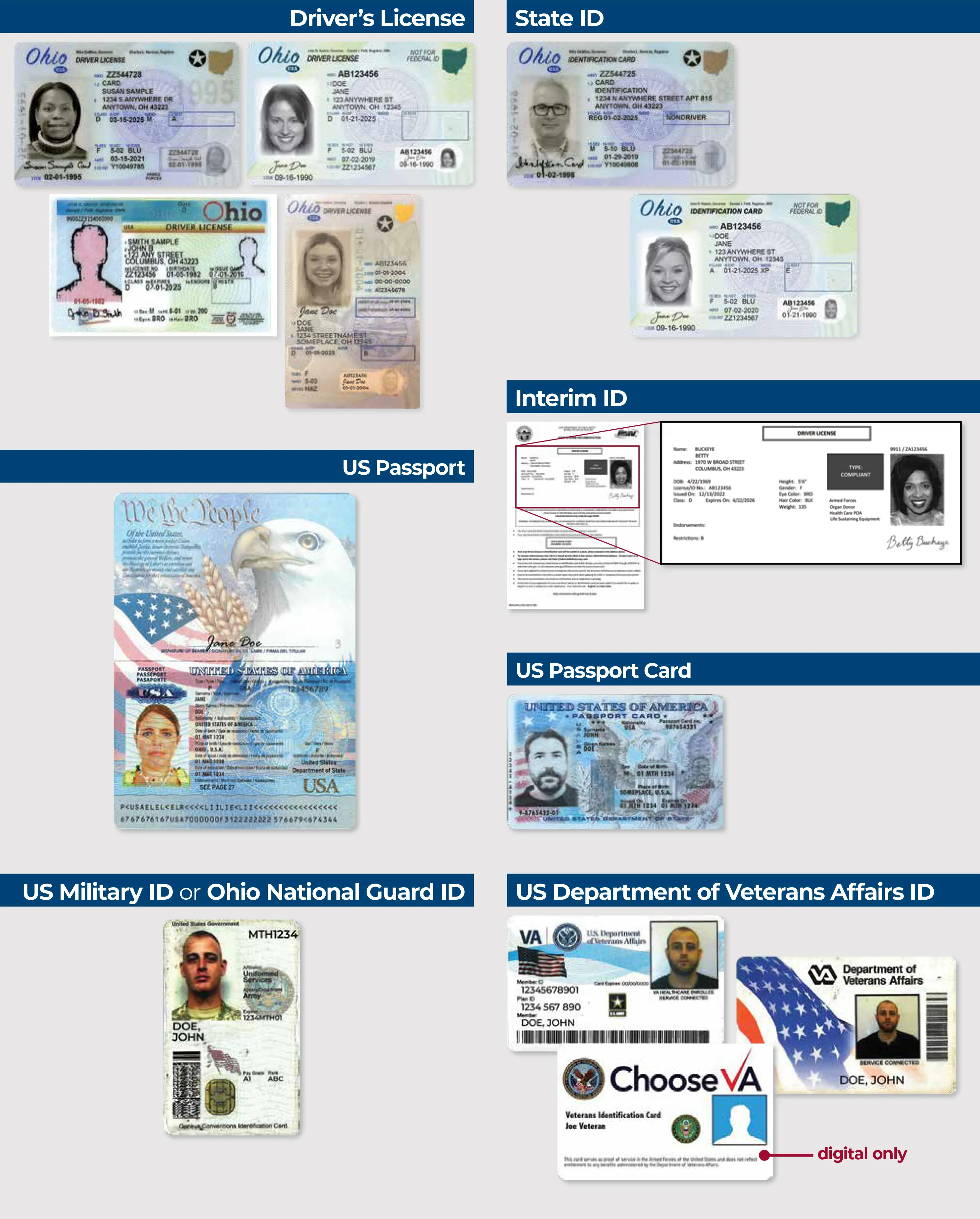 The BMV issues Ohio Interim Documentation until the applicant receives their new ID through the mail. A driver's license or state identification card in the old or new format, the Ohio Interim Documentation, and a voter's old, hole-punched driver's license or state ID card are acceptable forms of identification for voting, as long as the expiration date has not passed.

If the voter changed their name and provides proof of the legal name change, completes and signs Form 10-L, and is registered within the precinct, the voter's name on the photo ID may be different from the voter's reported change of name.
REMEMBER: A voter who moves within the precinct (and completes a Voter Registration Form) or provides proof of legal name change (and completes Form 10-L) votes a regular ballot.