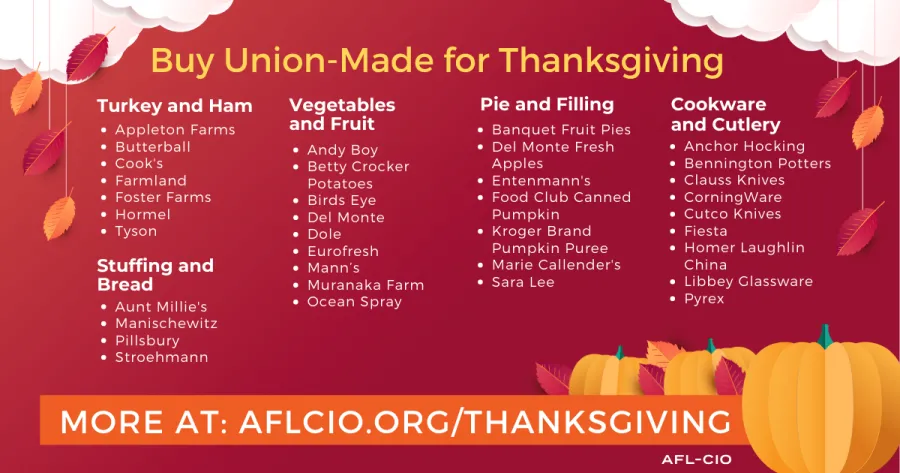 When you buy union, you're supporting good jobs in American communities, jobs that provide living wages and benefits, safe working conditions, and dignity and respect for work. Look for these quality products, produced by union members, when preparing for your Thanksgiving feast.
The following list comes to us from Union Label and Labor 411, and the products are made by the Bakery, Confectionery, Tobacco Workers and Grain Millers (BCTGM); the Glass, Molders, Pottery, Plastics and Allied Workers-USW (GMP-USW); the Machinists (IAM); UNITE HERE; the United Food and Commercial Workers (UFCW); the United Steelworkers (USW); the United Farm Workers (UFW); and the Teamsters (IBT).
Set the Table
Anchor Hocking (GMP-USW)
Bennington Potters (UNITE HERE)
Clauss knives (USW)
CorningWare (USW)
Cutco knives
Fiestaware (GMP-USW)
Homer Laughlin china (GMP-USW)
Libbey glassware (GMP-USW)
Pyrex (USW)
Fresh Whole Turkey
Butterball (UFCW)
Foster Farms (UFCW)
Ham
Appleton Farms ham (UFCW)
Butterball ham (UFCW)
Cook's ham (UFCW)
Farmland old-fashioned pit ham (UFCW)
Farmland original pit ham (UFCW)
Hormel honey roasted ham (UFCW)
Tyson ham (UFCW)
Stuffing
Manischewitz (UFCW)
Stroehmann bakery products (BCTGM)
Stove Top
Vegetables
Andy Boy (UFW)
Birds Eye (UFCW)
Del Fresh (UFCW)
Eurofresh (UFCW)
Fresh Express Salad (IBT)
Mann's (UFCW)
Muranaka Farm (UFW)
Cranberries/Cranberry Sauce
Dole (IBT)
Ocean Spray (IAM)
Potatoes
Betty Crocker specialty potatoes (BCTGM)
Dole fresh potatoes (IBT)
Mann's fresh culinary cuts sweet potatoes (UFCW)
Ore-Ida (UFCW, IBT)
Bread
Aunt Millie's bread products (UFCW)
Pillsbury rolls (BCTGM)
Orlando (BCTGM)
Schwebel's (BCTGM)
Stroehmann bakery products (BCTGM)
Pie
Banquet fruit pies (UFCW)
Entenmann's (BCTGM)
Marie Callender's (UFCW)
Pillsbury pie crust (BCTGM)
Sara Lee (BCTGM)
Pie Filling
Del Monte fresh apples (IBT)
Food Club canned pumpkin (UFCW)
Kroger pumpkin pie (UFCW)
Pop
Barq's Root Beer
Coca-Cola
Dr. Pepper
Pepsi
Beer
Anheuser-Busch, Black Eye Ale, Black Hawk Stout, Blue Heron Pale Ale, Boxer, Budweiser, Busch, Butte Creek Organic Collection, Carmel Wheat, Clear Creek Ice, Dundee Craft, Eye of the Hawk, Genesee Brewery, Henry Weinhard's, Honey Amber Rose, Huber, Icehouse, Landshark Lager, Lazy Mutt Farmhouse Ale, Leinenkugel Brewing Co., Lionshead, Mad River Brewing Co., Mendocino Imperial, Michelob, Miller, Milwaukee's Best, Minhas Oktoberfest, Mendocino-Talon-Double-IPA, Natural Ice & Light, O'Doul's, Olde English 800, Pabst, Peregrine Pilsner, Pyramid, Red Dog, Red Tail Ale, Rolling Rock, Sam Adams, Shergill IPA, Shock Top, Talon Extra Select Double IPA and White Hawk Select IPA.
Wine
Almaden, Barrelli Creek, Bartles & Jaymes, Black Box, Boone's Farm, C.K. Mondavi wines, Carlo Rossi, Charles Krug, Chateau Ste. Michelle, Columbia Crest, Corbett Canyon Vineyard, Dubonnet, Fairbanks, Franzia, Gallo Estate Wines, Lejon Vermouth, Livingston Cellars, MD 20/20, Mission Bell, Peter Vella, Rancho Zabaco, Robert Mondavi, Seagram's Escapes, Sheffield Cellars, St. Supery, Tribuno Vermouth, Turning Leaf and Weibel.
Spirits
Tequila
Azteca, Barton Liquor, Captain Gold, Don Eduardo, El Jimador, El Mayor, El Toro, Herradura, Juarez and Montezuma.
Vodka
Aristocrat, CLIX, Denaka, Finlandia, Maximus, Pinnacle, Platinum, Rain, Taaka and Wheatley.
To find more union-made in America products, visit Union Label and Service Trades Departmentand Labor 411.