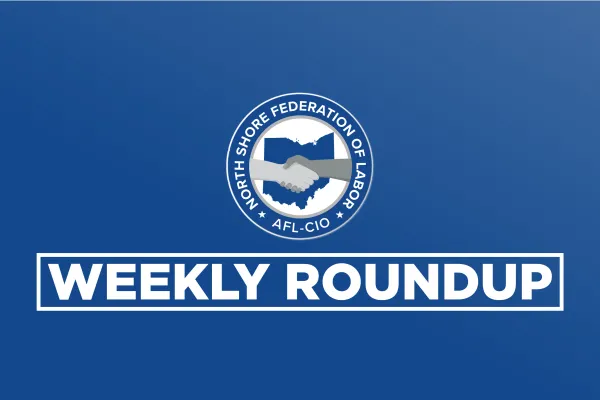 A recap of last week's labor union news. Week of 12/26-1/1.
Richard Trumka: The Labor Leader Who Told Hard Truths: New Republic and former POLITICO labor policy editor Timothy Noah examines how our movement changed under Trumka. [Read More]
Cleveland Jazz Orchestra gets first contract: The musicians of the Cleveland Jazz Orchestra approved the terms and conditions of their first collective bargaining agreement. Aidan Plank and Brad Wagner led the way on behalf of their colleagues and the Cleveland Federation of Musicians, AFM Local 4.
CEO Pay Report for 2021: Policy Matters Ohio examines the pay gap between Ohio's CEOs and the typical employee and makes recommendations on what legislators and businesses can do to narrow the gap. [Read More]
Representative Brown: 'Bipartisan infrastructure law is already delivering for Northeast Ohio: People have talked for decades about delivering on infrastructure. In 2021, we actually got it done, writes U.S. Rep. Shontel M. Brown of Warrensville Heights. [Read More]
Workers United steward makes Most Interesting People list: Cleveland Magazine named Workers United member and Progressive Field steward Les Flake one of it's 30 Most Interesting People of the year. A beer vendor, Flake has worked for the Cleveland baseball franchise for almost 50 years. [Read More]
Preterm staff join SEIU District 1199: Staff at Preterm announced early in the week that their board refused to voluntarily recognize a staff union and went further to eliminate holiday bonuses and cost-of-living increases. After significant public pressure, the board reversed their decision. The 50-member union will join SEIU District 1199.
ACTIONS
Send a thank you to Congresswoman Brown: The Federation is sending thank you cards to Congresswoman Brown in recognition of her support of the bipartisan Infrastructure Investment and Jobs Act. Contact Campaigns Director Brian Pearson to make a request for postcards. Postage is paid.
Tell the Menlo Park Academy Board of Directors: Stop using taxpayer funds for union-busting: AFT/OFT is attempting to organize a union at Menlo Park Academy. 96% of the eligible staff signed union cards, but management refuses to recognize their union and is using public money to thwart the organizing effort. [Sign the Petition]
Tell the Senate: Pass the Build Back Better Act: The Build Back Better agenda means trillions of dollars of investments in our jobs, families, and communities. We need Congress to take bold action. [Add Your Name]
EVENTS
Union Night with The Dropkick Murphys: Don't miss your opportunity to see union-friendly band The Dropkick Murphys at Masonic Cleveland on February 24th. Reserve your tickets now, pay later. Tickets ordered through the North Shore AFL-CIO include access to a preshow party. More details to come! [Request Ticket Hold]
Monthly Delegate Meeting: The Federation will hold its monthly delegate meeting virtually on January 12. Look for a meeting notice and details in the mail this week.