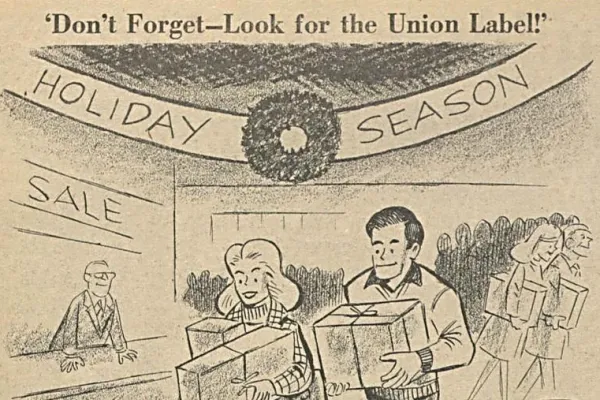 Want to build a better America? Buy union-made!
When you buy union-made American products, you support companies where workers are paid fairly and have a voice on the job. You'll be supporting companies with safer work environments, and you'll punish non-union companies. Buying union-made means supporting a stronger economy here in the United States and putting money into the pockets of workers instead of greedy executives.
Give the perfect gift this holiday season. Support unions!
APPAREL & ACCESSORIES
A & H (bathing suits)
AKWA
Artex Knits (hats and scarves)
Brooks Brothers
Filson
Joseph Abboud
King Louie
Majestic Athletic
Naturalizer shoes
Nunn Bush shoes
Oshkosh B'Gosh
Pendleton (ask for union-made)
Red Wing Shoes
Schott NYC (ask for union-made)
Timex (watches)
Union Line
Wigwam (socks)
FOOTWEAR
Alden
Belleville Boot Company
Carolina
Cove Shoe Company
Danner Shoes
Fabco Enterprises
Matterhorn Shoes
Nunn Bush
Stacy Adams
Thorogood (boots)
Totes (boots)
Wolverine Foot Apparel
BEAUTY & PERSONAL PRODUCTS
Advil
Alka-Seltzer
Bayer Asprin
Caress Skin Care
Chapstick
Coppertone
Dial (soap)
Degree Deodorant
Dr. Scholl's
Irish Spring
Ivory
Lander (personal care)
L'oreal Paris
Maybelline
Old Spice
Palmolive
Pepto Bismol
Preparation-H
Ralph Lauren (perfume/cologne)
Redken
Revlon
HOUSEWARES
All-Clad (cookware)
Artex Knitting Mills (linens)
Bic (lighter)
Cecilware (cappuccino machines, coffee pots, and fryers)
Corningware
Cutco (knives)
Estee (mattresses)
Fiestaware
Hollander Home Fashions
Kitchen Aid
Libbey Glass
Pendelton blanket
Pyrex
Rayovac (batteries)
Saladmaster
Sealy, Serta, Sleep Country (mattresses)
Sherwin Williams (paint)
OUTDOOR & SPORTING GOODS
American Athletics (Russell)
Armstrong
Bell Sports
Colt Firearms
Ebonite Bowling Balls
John Deere (tractors 7000, 8000, 9000 series)
Lifetimer (boats)
Louisville Slugger
MacGregor Golf
Remington Arms Clay Pigeons
Russell (portable and stationary basketball backboards)
Savage Arms
Standard Golf
Top Flite Golf Balls
Toro (including Lawnboy)
Weber Grills (Genesis, Summit, Q Series)
Wilson "The Duke" Footballs
TICKETS
TOOLS & APPLIANCES
ADT Security Systems
Armstrong
Black & Decker (tools)
Bradford White (water heaters)
Channellock
Electrolux (ICON, Frigidaire)
Fulton (flashlights)
GE Profile
Gerber Gear Knives
Klein Tools
Lenox
Master Lock
Maytag
Ridgid
Snap-on Tools
Stanley Hand Tools
Toro (including Lawn-Boy)
Union Tools
Warwood
Whirlpool (refrigerators and ice makers)
Wolf (ranges)
TOYS & GAMES
Baby Alive
Battleship
Beyblade
Bicycle (playing cards)
Boggle
Busy Basics
Candyland
Captain America
Chuck and Friends
Chutes and Ladders
Clue
Connect Four
Cranium
Crayola Crayons (not all)
Crib Life
Easy-Bake
Explore N Grow
Family Game Night
Fantastic Four
FurReal Friends
G.I. Joe
Gloworm
Heroscape
Hi-Ho! Cherry-O
Hungry Hungry Hippos
Iron Man
Life
Lite-Brite
Littlest Pet Shop
Marvel
MEMORY
Mighty Muggs
Milton Bradley
Monopoly
Mouse Trap
Mr. Potato Head
My Little Pony
my 3D Viewer
Nerf
Operation
Parker Brothers
Play-Doh
Playskool
Rubik 's Cube
Scrabble
Simon
Sit 'N Spin
Sorry
Spider-Man
Star Wars
Strawberry Shortcake
Super Soaker
The Incredible Hulk
Thor
Tinkertoy
Tonka
Transformers
Trivial Pursuit
Trouble
Weebles
Wheel Pals
Wolverine
Yahtzee
For more, visit https://uaw.org/wp-content/uploads/2022/09/2022-UAW-Shopping-Guide-full-28-pages.pdf. 
Are we missing something? Email North Shore AFL-CIO Campaigns Director Brian Pearson at bpearson@clevelandaflcio.org.