Statement on the Treatment of Playhouse Square's Union Projectionists
brian.pearson
16 Mar, 2022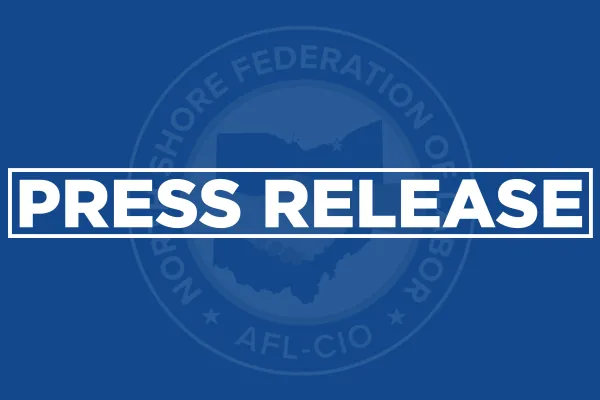 For Immediate ReleaseWednesday, MArch 16, 2022
Contact: 
Dan O'Malley, 440-552-7234, domalley@clevelandaflcio.org
Statement from North Shore AFL-CIO Executive Secretary Dan O'Malley on the Treatment of Playhouse Square's Union Projectionists Ahead of the Cleveland International Film Festival (CIFF)
(Cleveland, Ohio) – As the Cleveland International Film Festival (CIFF) at Playhouse Square approaches, I regret that the treatment of the theater district's union projectionists threatens the festival's success. Since this film festival and Playhouse Square both benefit enormously from taxpayer funding via the local, state, and federal governments, I want to make a public statement today and to ask for our community's solidarity and support.
The men and women who operate the projectors at Playhouse Square are members of the International Alliance of Theatrical Stage Employees (IATSE) Local 160. They are masters of their profession, and their technical expertise is a point of great personal pride. Although these projectionists expected they would be employed for CIFF (as they are for every PlayhouseSquare event), they were notified that the film festival would be supplying their own, non-union workers to operate the equipment. The legally-binding collective bargaining agreement (CBA) between IATSE Local 160 and PlayhouseSquare guarantees that union workers will perform the projection work at Cleveland's theaters. However, Playhouse Square contends that the film festival is not an official Playhouse Square presentation, and therefore it creates a loophole in the union contract which will allow for the use non-union projectionists for this particular event.
The members of IATSE Local 160 are dedicated professionals who have borne the burden of the COVID pandemic more than workers in most other industries. Theater productions were completely shut down during the pandemic. As Northeast Ohio emerges from an unprecedented public health and economic crisis, these workers are eager to return to work, provide for their families, and play their part in this great showcase of filmmaking and of our region as a whole.
The North Shore Federation of Labor, which counts Local 160 among its members and where I serve as the principal officer, has earnestly attempted to reach out to leadership at both Playhouse Square and CIFF in hopes of reaching a mutual understanding and an agreeable resolution. Playhouse Square has informed us that they are totally unwilling to negotiate on this issue, and has also informed us that they've admonished CIFF to not engage with either Local 160 or the North Shore Federation. 
To date, CIFF has been entirely unresponsive to our repeated attempts to contact their leadership. We had approached this situation with the best interests of our membership at heart while also giving CIFF the benefit of the doubt and being open to explanation for their decision to not continue the longstanding practice of employing union projectionists at Playhouse Square. We are incredibly disappointed by their unwillingness to even engage in a conversation, and Playhouse Square's stated admission that this behavior was at their instruction. 
My worry at this point is that a small group of hard-headed executives are turning an easily resolvable situation into a major labor dispute, and are ultimately threatening what should be a joyous and celebrated film festival. We are in contact with nearly every major entertainment union, as well as many filmmakers and film sponsors, to inform them of this troubling situation. 
Once again, the projectionists at IATSE Local 160 are immensely proud of the work they do every day at Playhouse Square and many other cultural venues in Cleveland. They work hard to piece together a middle-class living for their families, and they demand to be treated with dignity and respect. The notion that they will be forced to vacate their own workspace and cede their craft to non-union workers goes against the bedrock principles of the labor movement - principles we know are widely shared in this Proud Union Town.
###