Chris Smalls Visits Cleveland
Michael Bracken, North Shore AFL-CIO Intern
13 Jun, 2022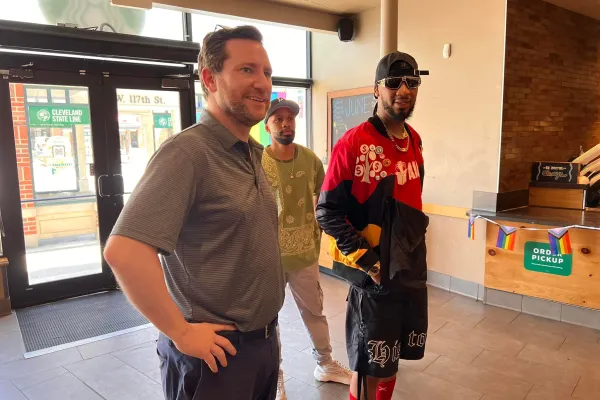 The North Shore AFL-CIO welcomed Amazon Labor Union (ALU) President Chris Smalls to Cleveland last week, fresh off his history-making victory at the JFK8 Amazon Fulfilment Center on Staten Island. 
Smalls spent three days in Greater Cleveland, beginning with a galvanizing discussion at UAW Local 1250 in Brook Park on Thursday. More than 200 people attended the Forum on Organizing for the 21st Century and Beyond, including workers from countless industries, union leaders, and our allies. Attendees heard from Joey Destanik, a worker recently fired from Amazon's North Randall fulfillment center for attempting to unionize his coworkers. Joey described his poor experiences on the job, the dubious tactics used by Amazon to justify his termination and their continuing anti-union tactics. Joey's words were a reminder that the unfolding unionization struggle within Amazon is already right here in the Cleveland area and that the mission of the emerging ALU will require solidarity across state lines and labor organizations.
Executive Secretary Dan O'Malley moderated the forum, which included a message of unity from Smalls and an emphasis on building a labor movement capable of uplifting workers in the 21st century. Smalls shared his long-term vision with the crowd, which centered on creating a union-building "superteam" to travel across the U.S., carrying the ALUs momentum. To great applause, Smalls revealed that the union has already been contacted by Amazon locations nationwide, including in Cleveland, about joining the fight. In the Q&A portion, Chris also stressed the importance of a workers-first approach, uniting workers based on their shared interests regardless of political affiliation. 
On Friday, Smalls day included stops at three Cleveland Starbucks stores. On Clifton Blvd. and University Circle, Smalls delivered messages of solidarity as they await their NLRB election. At the newly unionized W. 6th Starbucks store, Smalls congratulated worker organizers and wished them luck in gaining a first contract.
"More and more American workers are beginning to realize their value and are joining unions so they can speak with one voice for a better future," O'Malley said. Chris Smalls' leadership of the Amazon Labor Union is an inspiring example of the power of solidarity." 
On Monday, Workers United announced that the University Circle, Cleveland Heights, and Clifton Blvd. stores received election dates.