Brown Meets with Cleveland Union Musicians to Celebrate Pension Fix
Senator Sherrod Brown Newsroom
11 Jul, 2022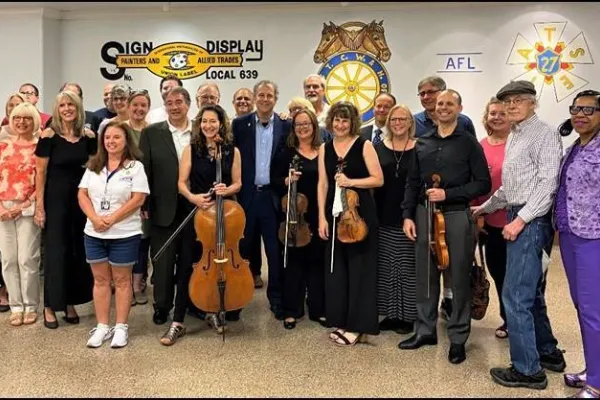 American Rescue Plan Included Brown's Butch-Lewis Act to Secure the Pensions that Millions of Workers Earned
CLEVELAND, OH – On June 30th, U.S. Sen. Sherrod Brown (D-OH) joined local retired and current musicians from the American Federation of Musicians (AFM) Local 4 who shared their stories about what the pension relief Brown helped secure in the American Rescue Plan means for their livelihoods. Without the fix, the more than 450 members of Northeast Ohio's Local 4 AFM had been facing pension cuts of 25 to 35 percent. The union represents current and retired musicians from many prominent Northeast Ohio performing arts organizations including the Cleveland Orchestra, Playhouse Square Foundation, Great Lakes Theatre Festival and the Cleveland Jazz Orchestra.
"After years of work by workers and retirees and small business owners in Ohio and around the country, in the American Rescue Plan we finally saved the pensions musicians earned over a lifetime of work, with NO CUTS," said Brown. "So many times, we wondered if we could get this done. But musicians never gave up."
For years, Brown led efforts to save Ohioans' pensions, touring the state to stand with Ohio retirees, workers and their families, and co-chairing a Congressional Committee on the pension crisis in 2018. Those efforts led to Brown's Butch Lewis Act being included in the American Rescue Plan, which was passed in March of 2021. It will save the pensions of more than 100,000 Ohioans, including the musicians he will meet with tomorrow.
Brown was joined at the event by working and retired musicians who shared personal stories and pictures of how they have or will benefit from the pension fix.
"Senator Brown saved my pension. His tireless efforts to ensure that workers receive the retirement benefits that they have earned is a shining example of the work ethic we need from our elected leaders," said Leonard DiCosimo, President of the Cleveland Federation of Musicians, Local 4 AFM.
The Butch-Lewis Act, named in memory of Butch Lewis, the former retired head of Teamsters Local 100 labor union in southwest Ohio, secured retirement benefits for workers and retirees in endangered pension plans for 30 years—with no cuts to benefits.
Brown's Butch-Lewis Act will:
Keep multiemployer pension plans solvent and well-funded for 30 years—with no cuts to earned benefits of participants and beneficiaries;
Restore full benefits for retirees in plans that previously had to take cuts and increase the maximum Pension Benefit Guarantee Corporation (PBGC) insurance amount; and
Require each plan that receives assistance file regular status reports with the PBGC and Congressional Committees, to prevent recurrence and protect retirees' benefits.